Mechanical Vacuum Lifters – Save Energy while Increasing Productivity
M75S Standard Single Pad, Self-Powered Vacuum Lifter


The M75S single-pad mechanical vacuum lifter is ideal for handling carbon steel and stainless steel sheets and plates with a capacity up to 750 lb (340 kg).

Unique Features of ANVER Mechanical Vacuum Lifters

Instant attach and release is provided via the hoist up and down movement. The attach and release alternates each lift cycle for fast, efficient handling. Mechanical vacuum lifters increase the speed and efficiency of the horizontal handling of sheet and plate, panels, and all types of nonporous materials.
Simple to operate. One person can control the entire operation. No oil fumes or noise pollution.
Easy to Maintain. Only the highest quality components and superior construction are used with few moving parts.
Extremely Safe. Load cannot be released until it is set down on a surface.
ANVER Mechanical Vacuum Lifters are suitable for 100% duty cycle 24 hour a day operation. They never overheat or burn out.
Easy to Maintain and Keep Operating in Heavy Production Environments.
ANVER Mechanical Vacuum Generators comply fully with and meet the standards of US ANSI ASME Standard B30.20 for below-the-hook lifting devices, as well as complying with OSHA and European requirements. Click here for more information on Vacuum Lifting Device Safety Standards.

Standard on Each Generator:

Vacuum gauge
Battery operated VLS, vacuum loss sensor and warning system
Front, adjustable pivoting handle-bar
Two shut-off valves with locking push-button, 3/8″ NPT port (front/back)
Rugged, Adjustable Front Handlebar with Optional Parking Stands

Contact ANVER for more information, or fill out a Lifter Info/Quote Request Form and a Sales Engineer will respond to your request shortly.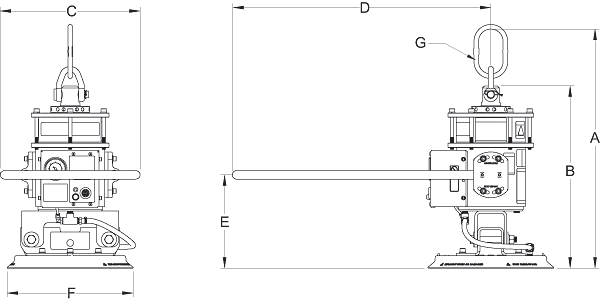 Request For Quote
Model No.
M75S
M75S-1117NBR
Rated Load Capacity [lbs (kg)]
750 (340)
750 (340)
Unit Weight [lbs (kg)]
127 (58)
125 (57)
A Max. Headroom [in. (mm)]
33.5 (851)
33.5 (851)
B Min. Height [in. (mm)]
21.5 (546)
21.5 (546)
C Handlebar Width [in. (mm)]
16.25 (413)
16.25 (413)
D Handlebar Length [in. (mm)]
30 (762)
30 (762)
E Handlebar Height [in. (mm)]
11 (279)
11 (279)
F Pad Size [in. (mm)]
15 (381)
Diameter
11 x 16.75
(280 x 426)
G Master Chain Link Dimensions [in. (mm)]
2.38 x 4.25
(60 x 108)
2.38 x 4.25
(60 x 108)
Maximum Sheet Size [ft (M)]
5 x 5
(1.5 x 1.5)
5 x 5
(1.5 x 1.5)
Vacuum Pad Number
VP146-NBR
VP1117-NBR

| | | |
| --- | --- | --- |
| Installation | General Information | Safety |
| | | |
| | | |
| | | |
| | | |
| Support/Service | Options and Accessories | Request for Quote |
| | | |
| | | |
| | | |
13600040 C