Industrial Vacuum System Component 3D CAD Files
How-To Information Page
Download CAD Files for our Suction Cups and Vacuum Components!
Please click here to view our online catalog.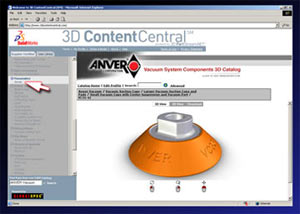 Step 1
Visit ANVER's 3D CAD Catalog and register for FREE!

Step 2
On the left navigation bar under the "Supplier Certified" tab, scroll down and click "Anver".

Step 3
Navigate through the ANVER e-Catalog and select the desired part. Click the top "Download" button, select your file type and version from the drop-down list and click the corresponding downloads button and follow the instructions.
Vacuum System Components 3D Catalog


3D PartStream.net® is a CAD resource center containing many of ANVER's products in every available CAD file format. 3D PartStream.net® is accessible 24 hours a day via the internet. Simply register to receive your user name and password and you can start downloading files on any of the 3D Partstream.net® websites. ANVER's products can be found under the "Pneumatics" heading on the left side of the site.

Powered by:

Available 3D File Conversions
Available 2D File Conversions

SolidWorks Part / Assembly (.sldprt)
CATIA V5 Part / Assembly (.catproduct)
CATIA V4 Part / Assembly (.session)
ANVIL (.igs)
Ashlar – Vellum Argon, Cobalt, Xenon (.sat)
CADKey 3D (.sat)
AutoCAD 3D (.sat)
IGES (.igs)
Inventor (.sat)
IronCAD (.sat)
JPEG Files (.jpg)
Mechanical Desktop (.sat)
Acrobat (.pdf)
Pro/E Part / Assembly (.prt)
ACIS (.sat)
SDRC I-DEAS (.step)
SolidEdge (.x_t)
STEP (.step)
STL (.stl)
Tiff (.tif)
Unigraphics (.x_t)
VDA (.vda)
VRML (.wrl)
Parasolid Binary (.x_b)
Parasolid Text (.x_t)
Edrawing Part / Assembly (.eprt)

SolidWorks Part / Assembly (.slddrw)
ANVIL Express (.dwg)
AutoCAD 2D (.dwg)
DWG files (.dwg)
DXF files (.dxf)
SolidWorks eDrawings (.edrw)
Acrobat (.pdf)
Tiff Files (.tif)

ANVER has made the long term investment of offering a 3D CAD Library powered by 3D PartStream.net® on Content Central.