ANVER Fittings for End-of-Arm-Tooling (EOAT) Vacuum Cups
Miniature Suction Cups for EOAT Industries
Part Number: BF12FL-OR – Large Flange Fitting
Custom electro-less nickel-plated brass fittings allow connection to a threaded pipe, tube or other fitting. The push-in design provides simple assembly and disassembly, while the flange or barb maintains a secure union. Size and style are determined by the cup. Please note that 10-32 male threads are fully compatible with M5 female threads.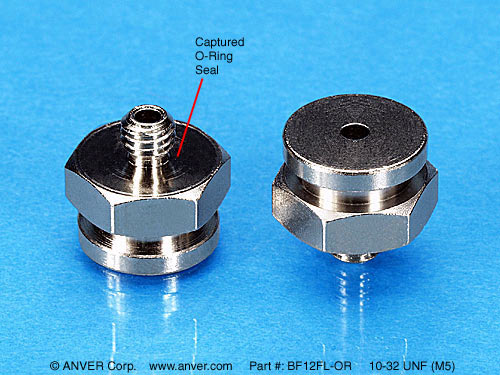 Product
Photo
(Click for larger
view and Information)
Item
Number

Connection
Thread
Size

Overall
Dia.
in.
(mm)

Static
Height
in.
(mm)

BF12FL-OR
10-32
(5 mm)
male
1/2″ hex
–
Available Suspension Assemblies with Fittings
Suspension Assembly Group
The combination of these fittings are required to connect the BF12FL-OR fitting to the listed suspensions
Connects directly.
No Fittings are required to connect the BF12FL-OR Suction Cup Fitting to SLSA1 Suspensions
Available Vacuum Suction Cups that use Fitting No. BF12FL-OR
(Click images below for more information)






---