ANVER Fittings for End-of-Arm-Tooling (EOAT) Vacuum Cups
Fitting for Miniature Suction Cups for EOAT Industries
Part Number: BF7FL-OR – Small Flange Fitting
Custom electro-less nickel-plated brass fittings allow connection to a threaded pipe, tube or other fitting. The push-in design provides simple assembly and disassembly, while the flange or barb maintains a secure union. Size and style are determined by the cup. Please note that 10-32 male threads are fully compatible with M5 female threads.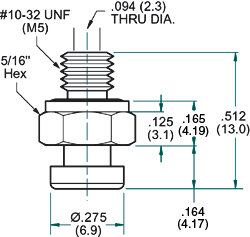 Vacuum Fitting
Part No.

Connection
Thread Size

Thru Hole
Diameter
or Thread
in.
(mm)

Hex Size
in.
(mm)

L
Height Added
to Assembly
in.
(mm)

H
Height
in.
(mm)

BF7FL-OR
#10-32 UNF
(5 mm)
male
0.09
(2.3)

5/16″

0.17
(4.2)
0.51
(13.0)

Available Suspension Assemblies with Fittings
Suspension Assembly Group
The combination of these fittings are required to connect the BF7FL-OR fitting to the listed suspensions
Connects directly.
No Fittings are required to connect the BF7FL-OR Suction Cup Fitting to SLSA1 Suspensions
Captured O-Ring Barbed Fitting
Features:
Reliability of a metal-to-metal mechanical fit between cup and level compensator

or other mounting element

Captured O-Ring for superior vacuum seal

Precision machined barb design presses right into vacuum cup and seals tight

Quality Electroless Nickel Plated Brass for durability
The design of the Captured O-ring Barbed Fitting combines the reliable mechanical fit of a metal-to-metal connection with the unmatched static sealing qualities of an O-ring. Proper installation of the fitting allows the skirt around the O-ring to mechanically seat on the rim of the female thread, holding the fitting tight. A clean looking connection is achieved by concealing the high quality Buna-N O-ring from view inside the skirt of the fitting. The Buna-N O-ring is thus compressed, not pinched, within the fitting skirt ensuring a leak-proof fit even when mated with a less than perfect sealing surface. The mechanical fit keeps the fittings tight and retains its position even under constant vibration or movement of our SLSA Level Compensators. Our captured O-ring design eases installation and eliminates the need for replacement gaskets or washers as the seal is already in position. The seal is kept tight minimizing unnecessary vacuum loss.
Available Vacuum Suction Cups that use Fitting No.
BF7FL-OR
(Click images below for more information)