Battery Powered Vacuum Generators
Self-Contained Battery Vacuum Stations – VPF-57-DCP Series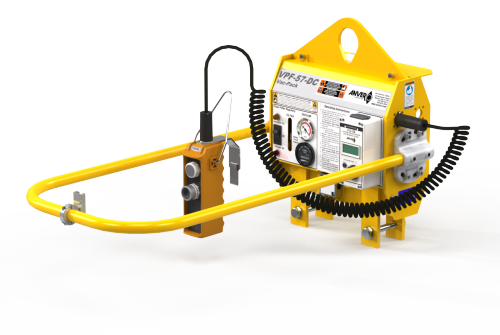 ANVER's VPF-57-DCP Vac-Pack Vacuum Generator contains many of the same features as the standard VPF-57-AC Series but includes a heavy duty rechargeable 12 volt DC battery, making it suitable for handling non-porous loads. It is commonly used for special applications where AC power is not readily available.
Features:
Easy to Replace Battery


Battery can be easily removed for charging. We recommend purchasing a spare battery. Use one on the lifter, while charging the other for zero downtime.

Battery Gauge


Gauge for battery charge level with hour meter.

Front Mounted Controls and Gauges
Vacuum gauge is mounted on front cover for continuous monitoring by operator. Also included is a filter view port to monitor filter for cleaning.
Indicator Light
Amber light indicates "power on" for Vac-Pack Vacuum Generator.
Ergonomic Adjustable Front Handlebar
Easy to grasp, large loop handlebar enables the operator to easily and safely maneuver the attached load without touching the load itself. Handlebar can be adjusted for smaller size loads.
Attach and Release Controls
Attach and release push-button located on control pendant with 10ft long coiled cord.
Vacuum Check Valve and Reservoir
A check valve with vacuum reservoir helps to maintain vacuum if electrical power is interrupted, for safe handling of non-porous loads.
Automatic Vacuum Control for Vacuum Pump
When Vac-Pack reaches preset vacuum level, the vacuum pump will automatically stop running. During the lift cycle, if the Vac-Pack reservoir loses 10% of its vacuum, the vacuum pump will automatically restart and run until original preset vacuum level is attained. This control will reduce ­battery draw to achieve full-shift operation.
Vacuum Leakage Sensing System
The VLS-Series leakage sensing systems are battery powered units consisting of solid state circuitry with microprocessor, pressure sensor, LCD digital display in inches of Hg, warning audible horn and red light. System is plumbed to the Vac-Pack and monitors vacuum level triggering the alarm in the event of a loss in vacuum level (10% loss for VLS / 20% loss for VLS-20).

Maintenance:
Oil-Less Diaphragm Vacuum Pump Motor
Powerful 1/5 horsepower motor drives a 1.12 CFM piston vacuum pump.
Air Filter
High capacity air filter provides protection against pump damage. It is mounted behind the front cover which has a view port for routine inspection.
General:
Vacuum Pump Description
High-performance oil-less piston pump has a 1/5 hp motor capable of generating 1.12 cfm. Motor is rated for 100% duty cycle. *NOTE: Vacuum switch mounted inside the generator turns the pump off when operating vacuum is reached in order to conserve battery life.
Frame Construction
The VPF-57-DCP Series has a fully welded frame with a vacuum reservoir and a lifting bail and beam mounting hardware.
• Standard for 3"x3" beam [9" hardware centers] with a structural lifting capacity rating up to 2,200 lbs (998 kg).
• Heavy Duty for 3"x6" beam [9" hardware centers] and reinforced lifting bail with a structural lifting capacity rating up to 4,400 lbs (1,996 kg).
Battery Specifications
12 Volt/23 amp, sealed, rechargeable, AGM (Absorbed Glass Mat) battery can provide full 8 hour shift operation in many applications.

Versatility
For larger load lifting capability or alternate power requirements, ANVER also offers other electric, air powered, and self-powered mechanical vacuum generators. All units are provided with modular standard mounting designs for easy interchangeability.
Options:
Recommended Battery Charger (GC-CHARGE-1.1)
Battery Charger, Smart Charge, 1.1 Amp (12 VDC) (Sold Separately). You can use other chargers as long as it meets the above specifications.

Specifications:
| Request For Quote | | |
| --- | --- | --- |
| Generator Model | VPF-57-DCP | VPF-57HD-DCP |
| Rated Load Capacity [lbs (kg.)] | 2200 (998) | 4400 (1996) |
| Unit Weight [lbs (kg.)] | 75 (34) | 77 (35) |
| A Max. Headroom [in. (mm)] | 18 (457) | 20 (508) |
| B Handlebar Height [in. (mm)] | 8 (203) | 10 (254) |
| C Handlebar Width [in. (mm)] | 18 (457) | 18 (457) |
| D Handlebar Length [in. (mm)] | 34 (864) | 34 (864) |
| E Hardware Centers [in. (mm)] | 9 (229) | 9 (229) |
| F Vacuum Pump Depth [in. (mm)] | 4.6 (117) | 4.6 (117) |
| Vacuum Pump [HP] | 1/5 | 1/5 |
| Pump Capacity [SCFM] | 1.12 | 1.12 |
| Vacuum Level at Sea Level [in. Hg] | 24 | 24 |
| DC Generator Battery Power | 12V DC, 12 Amp Hours | 12V DC, 12 Amp Hours |
| Fits Tube Size [in. (mm)] | 3 x 3 (76 x 76) | 3 x 6 (76 x 152) |
Battery Charger and Accessories
Product
Photo
Part
Number
Description
GC-CHARGE-1.1
Battery Charger, Smart Charge, 1.1 Amp (12 VDC)
34000225
Adapter with Polarized Plug for Battery Charger
Recommended Spare Parts
Product
Photo
Part
Number
Description
AGM-12V-12
Battery, 12Volt , 12 Amp, Absorbed Glass Mat
34000212
Polarized Plug with Spades from Battery to Charger or VPF-57 Battery Vac-Pack
28100702
Battery Holder, Sheet Metal for VPF-57 Battery Vac-Packs

Battery Powered
Lifter Examples

Click here for information on
selecting the right vacuum lifter



Vacuum Pad Attachments


Model VPF-57R-AC remote mount vacuum generator with VPF-57-RB remote mount assembly
Click Here, to view examples of vacuum lifter frames with remote generators.
13600011 E