Vacuum Lifting System Pad Attachments
Pallet Lifting Attachment
ANVER Vacuum Tube Lifters offer the reliability and versatility needed to increase your production. The VT-PLA Pallet Lifting attachment allows you to lift and move standard sized pallets safely and easily. When the VT-PLA is attached to a pallet, the special load valve closes. The lift tube contracts, effortlessly lifting the pallet. The VT-PLA weighs 30 lb (13.6 kg).
Features:
Sturdy extruded aluminum construction for years of reliable service.

Special load valve provides an air-tight seal when the load is attached.
Quick release mount allows you to easily swap out with standard vacuum pad attachments.
Contact ANVER for more details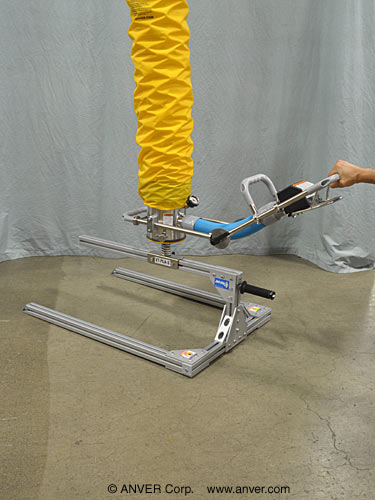 Product Photo
(Click to Enlarge)
Part Number
VT-PLA-S
---
Quick Disconnects and Extensions
Allow quick change of pad attachments for varying load handling requirements. Quick Release extensions extend the reach of the lifter.
---