Vacuum Generators and Vacuum Stations
Self-Contained Electric Vacuum Stations
VPE3-GEN3 Series with ANVER Vacuum Control Module & Safety Lock-Out


ANVER's VPE3-GEN3 Series Vac-Packs are suitable for handling non-porous to semi-porous loads. Designed for use with a wide assortment of vacuum pad attachments and lifter assemblies, these high quality Vac-Packs are ruggedly designed for heavy production use. Units are available with heavy duty frames or for mounting remotely.

Safety Features:

Load

Sensing

Lifting Bail with Safety Lock-Out


Pendant controls are only active when the lifter is lowered completely and there is no load on the bail. This eliminates the risk of accidental release of a suspended load by the operator. (Feature not present on the VPE3-GEN3-RD Series, which is a standalone version, or the VPE3-GEN3-T Series, which is a tilter version.)

Vacuum Control


A solid-state Vacuum Control combines all the required vacuum generator controls in one rugged unit. This controls all vacuum pump functions, safety lights, and is fitted with a standard audible vacuum leakage warning system.

Audible Vacuum Leakage Warning System


Integrated electronically controlled vacuum leakage sensor monitors vacuum level and will sound an alarm if a slow vacuum leak is present and the vacuum level drops to a predetermined set point.

Vacuum Retention


The system includes an internal check valve to stop leakage of vacuum in the event of a power failure (non-porous loads). A 5.4 gallon (1247 cu. in.) vacuum reservoir assists in maintaining a safe vacuum level during a power failure (non-porous loads).

Additional Features:

Front Control Panel and Gauges


All gauges, lights, and power switches are mounted on the front of the control panel. The two vacuum gauges on the face of the panel display the level of vacuum in the manifold and in the reservoir.

Indicator Lights – Front, Left & Right Side


Green light indicates "Safe" vacuum level.




Red light indicates "Unsafe" vacuum level.




White light indicates "Power On."

Ergonomic Control Handlebar


Easy to grasp, large loop handlebar enables the operator to easily and safely maneuver the attached load without touching the load itself. Handlebar can be adjusted for smaller size loads.

4 ft (1.2 m) Power Cord with Twistlock Plug and Receptacle


The twist-lock receptacle prevents accidental disconnection from the power source. Both male and female halves are supplied.


Generator shown with ESC Controls

Your choice of FOUR control styles to suit your application:

Standard Controls


Click for Video

Electric Self-Cycling Attach/Release
Instant attach/release is provided via the hoist up and down movement. The attach and release alternate each lift cycle for fast, efficient handling. Similar to our line of Mechanical Generators. Click here to find out more about Electric Self-Cycling.

Features:

No Pendant or Radio Controls Required for Attach/Release.
Extremely Safe. Load cannot be released until it is set down on a surface.
Simple to operate.

Optional Controls

Radio Controlled 3 Button Attach / Release / Interlock Transmitter with Plug-In Receiver
Hand held device with attach, release and safety interlock push buttons with holster mounted on front handlebar. Plug-in receiver is mounted on side of vacuum generator. Contact Factory for more information.

Includes:

Radio Control Transmitter and Mounting Holster
Radio Control Receiver and Mounting Bracket

Plug-In Attach / Release / Interlock Control Pendant
Attach/Release momentary switch and safety interlock push-button located on control pendant with 10ft long coiled cord.

Includes:

Pendant Control and Mounting Holster
Plug-In, Replaceable Coil Cord, 10 ft. long.

Plug-In Harness, Customer Radio Receiver Interface
Control Harness allows you to wire your own radio receiver for integration of Attach / Release / Interlock.


Includes:

Maintenance:

Front & Rear Panel Cover


The front and rear covers pivot open for easy access to all components.

Air Filter


Over-sized air filter provided inside of front cover features a screw-on clear filter bowl for easy filter inspection and cleaning.

Vacuum Pump(s):

(2) High Performance Oil-Less Dry Piston Vacuum Pumps

All vacuum pumps have thermal overload protection

and

require 115V/1PH/60Hz* 20 amps service unless otherwise specified

. Operating temperature for each pump: 35°F to 135°F (1.7°C to 57.2°C]

Options:

Optional Moisture Traps (WT-VP3-[Series])


For damp applications: prevents saturation of filter and possible damage to pump. Not for handling wet loads. Mounts on vacuum manifold.

*Optional Generator Configurations and Voltages Available:


In reference to our standard line of Vac-Packs noted above, other configurations, voltages and set-ups are available. Contact ANVER for further information and application requirements.
Specifications for Lifting Frames and Pad Attachments: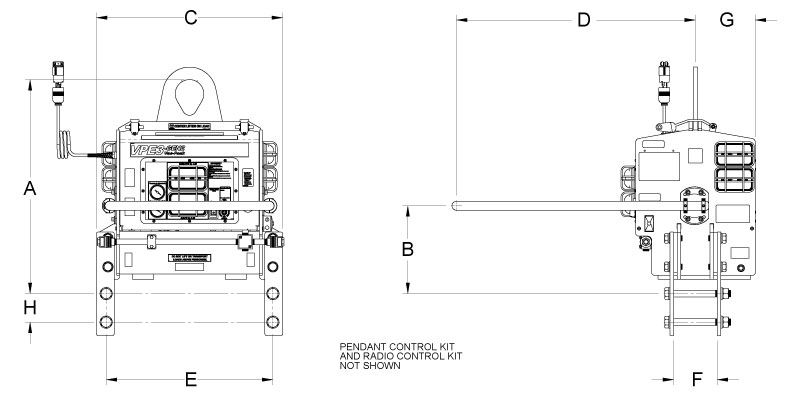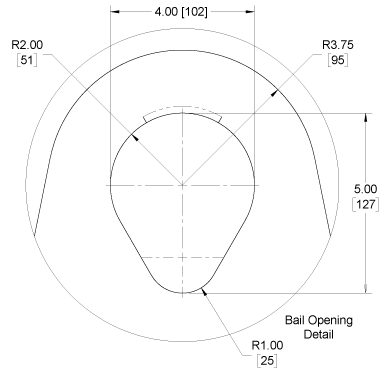 | Request For Quote | | | | | |
| --- | --- | --- | --- | --- | --- |
| Generator Series Model No. | VPE3-GEN3-L | VPE3-GEN3-S | VPE3-GEN3-H | VPE3-GEN3-HD | VPE3-GEN3-X |
| Rated Load Capacity [lbs (kg)] | 2300 (1043) | 6900 (3129) | 7000 (3175) | 10000 (4535) | 10000 (4535) |
| Unit Weight [lbs (kg)] | 325 (148) | 325 (148) | 325 (148) | 325 (148) | 325 (148) |
| A Max. Headroom [in. (mm)] | 30.13 (765) | 31.5 (800) | 31.5 (800) | 31.5 (800) | 28 (711) |
| B Handlebar Height [in. (mm)] | 12.44 (316) | 13.81 (351) | 13.81 (351) | 13.81 (351) | 12.31 (313) |
| C Unit Width [in. (mm)] | 25.38 (645) | 26.13 (664) | 26.13 (664) | 26.13 (664) | 26.13 (664) |
| D Maximum Handlebar Length [in. (mm)] | 34 (864) | 34 (864) | 34 (864) | 34 (864) | 34 (864) |
| E Hardware Centers [in. (mm)] | 9 (229) | 22.38 (568) | 22.38 (568) | 23.38 (594) | 23.38 (594) |
| F Fits Tube Size [in. (mm)] | 3 x 3 (76 x 76) | 3 x 6 (76 x 152) | 5 x 7 (127 x 178) | 5 x 7 (127 x 178) | 8 x 6 (203 x 152) |
| G Vac-Pack Depth [in. (mm)] | 8.39 (213) | 8.39 (213) | 8.39 (213) | 8.39 (213) | 8.39 (213) |
| H Hardware Spacing [in. (mm)] | N/A | N/A | N/A | N/A | 4 (102) |
| Vacuum Level at Sea Level [in. Hg ] | 24 | 24 | 24 | 24 | 24 |
| Energy Saver / Quiet Automatic Shut-Off | YES | YES | YES | YES | YES |

Specifications for Remote Mounting: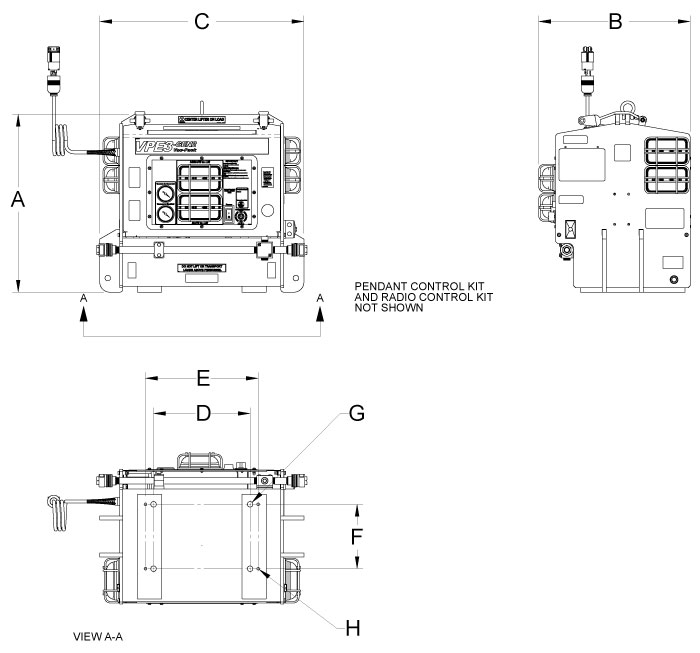 Request For Quote
Generator Series Model No.
VPE3-GEN3-R
VPE3-GEN3-T
Unit Weight [lbs (kg)]
270 (123)
270 (123)
A Max. Headroom [in. (mm)]
22.44 (569)
22.44 (569)
B Unit Depth [in. (mm)]
18.88 (479)
18.88 (479)
C Unit Width [in. (mm)]
25.38 (645)
25.38 (645)
D x F Hardware Mounting Pattern [in. (mm) Thread Size]
12 x 8 (305 x 203) M20x2.5
12 x 8 (305 x 203) M20x2.5
E x F Hardware Mounting Pattern [in. (mm) Thread Size]
14 x 8 (356 x 203) M10x1.5
14 x 8 (356 x 203) M10x1.5
Vacuum Level at Sea Level [in. Hg]
24
24
Energy Saver / Quiet Automatic Shut-Off
YES
YES
Operator Control Style Options
Radio Control or Pendant Control
(Electric Self-Cycling not compatible with this model)
Radio Control or Pendant Control
(Electric Self-Cycling not compatible with this model)
Optional Controls
Product
Photo
Part
Number
Description
RCPK-AC/DC-ARI

Radio Control Kit for Vac-Packs, Attach/Release/Interlock

Kit Includes:

Radio Control Transmitter and Mounting Holster
Radio Control Receiver and Mounting Bracket

EPK-AC/DC-ARI

Pendant Control Kit for Vac-Packs, Attach/Release/Interlock

Kit Includes:

Pendant Control and Mounting Holster
Plug-In, Replaceable Coil Cord, 10 ft. long.

34000332

Plug-In Harness, Customer Radio Receiver Interface

Kit Includes:
Optional Equipment
Product
Photo
Part
Number
Description
PMP-KP-FG

Filter / Guard, for PMP-KP(Series) Vacuum Pumps.

Kit Includes:

Filter Guard
Filter Insert
Recommended Spare Parts
Product
Photo
Part
Number
Description

34000152

Pendant Coil Cable Replacement / Extension, 10 Ft. Long, Plug-In

21301185-2

Utility Bar Assembly for 1.25″ Dia. Handlebars (VPE3-GEN3 / BAE3-GEN3 / GF Series)

21301186

Radio Control Transmitter Holster Assembly, Bolt-on for Utility Bar (Mounting Hardware Included)

21301187

Pendant Mounting Bracket Assembly, Bolt-on for Utility Bar (Mounting Hardware Included)

RCT-PCLIP

Plastic Belt Clip for RCT Transmitter

RCT-MCLIP

Metal Belt Clip for RCT Transmitter

RCT-SCREW

Belt Clip Screw for RCT Transmitter

RCT-NYLONCOVER

Protective Nylon Cover for RCT Transmitter
13600252