Vacuum Pad Attachments
Large Capacity Foam Vacuum Pad Attachments – Standard Sizes


ANVER Large Capacity Foam Vacuum Pad Attachments are ideal for lifting heavy, compact, semi-porous loads such as concrete and rough stone in situations where the available load surface precludes the use of lifters with multiple smaller pads. These large capacity pads are made by ANVER to be sturdy and safe when handling heavy semi-porous loads.

Features

Sturdy heavy steel construction.
Replacement vacuum seal can be changed by hand.
High lifting capacity and welded construction
Custom Sizes are easily made to order.
Specifications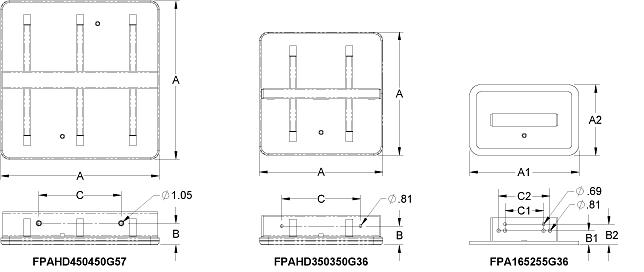 Product Drawing
(Click to Enlarge)
Pad
Attachment
Number

Recommended Electric Vacuum Generator

Seal Part
Number
Rated
Load
Capacity
lb. (kg)
Unit
Weight
lb. (kg)

A
In. (mm)

B
In. (mm)

C
In. (mm)
Optional
Parking
Stands
FPA165255G36
VPE1-GEN2-Series
FRS165255-K4
1900
(862)
59
(27)
A1
A2
B1
B2
C1
C2
Consult Factory
FRS165255-B4
25.5
(648)
16.5
(419)
3.3
(84)
4.8
(122)
9
(229)
12
(305)
FPAHD350350G36
VPE3-GEN2-Series
FRS350350-K4
6000
(2721)
195
(89)
35
(889)
5
(127)
22.38
(568)
72000038
FRS350350-B4
FPAHD450450G57
VPE3-GEN2-Series
FRS450450-K4
9000
(4082)
395
(180)
45
(1143)
6.12
(156)
22.38
(568)
72000038
FRS450450-B4
*The cup capacities shown above are based on 22″Hg at sea level with a safety factor of two (2) in the horizontal (flat) position.
Rated Load Capacities are estimated; actual capacity will vary based on the load surface and the level of vacuum.

13600192 A