Vacuum Pumps and Vacuum Generators
Regenerative Vacuum Stations and Vacuum Pumps
VB Series Vacuum Pumps


ANVER offers select models of high efficiency vacuum pumps specially designed for ANVER, and used as part of its vacuum lifting systems. These revolutionary regenerative pumps offer a compact, reliable source of quiet, vibration-free vacuum. ANVER's quality vacuum pumps are made from tough, high-strength materials for long life, and are lightweight and virtually maintenance free. Their highly efficient, state-of-the-art design has rendered the older designs of conventional side-channel blowers obsolete. Vacuum pumps are available in capacities of up to 480+ cfm flow and 18 in. Hg vacuum. Powered by high quality motors, they are more energy efficient, require less horsepower to operate than competitive models, and are offered in a variety of sizes to match your vacuum lifting requirements. NOTE: Optional vacuum or pressure relief valves are also recommended.

All vacuum pump models have rated noise levels of 70–77dB. Optional sound enclosures, specifically designed for each pump model, are available and further reduce the noise level by 5–7dB.

Voltage Available
Phase
Cycle

Dual Voltage: 230/460 or 220/440




Single Voltage: 575V

3 phase

60

Single Voltage: 208/380V

3 phase

50

* Note: When operated at 50 Hz, pump capacity is decreased by 1/6th (16.7%). Consult Factory for more information and other available non-standard configurations.
High Flow Pumps are especially suitable for porous load applications. They produce air flows up to 350 SCFM making them a natural choice for lifting porous and semi-porous loads. The two pump models available with varying capacities are listed in the High Flow Pump Specifications table below.

High-Vacuum Pumps produce vacuum up to 18 in. Hg, which makes them an ideal choice to lift heavy, non-porous to semi-porous loads. The two pump models available with varying capacities are listed in the High Vacuum Pump Specifications table below.

Note:

Performance tolerance is +/- 10%.

Performance curves are based on 60Hz power supply, air temperature of 60°F (15°C) at the inlet connection, and barometric pressure of 29.92 in. Hg absolute (1013 mbar) at the discharge connection.

Special Orders:

Washdown (WAS): Stainless steel fittings

Explosion proof models; consult Anver for availability.
Standard Regenerative Direct-Drive Vacuum Pumps and Vacuum Stations
Note: Vacuum Stations include a muffler and fittings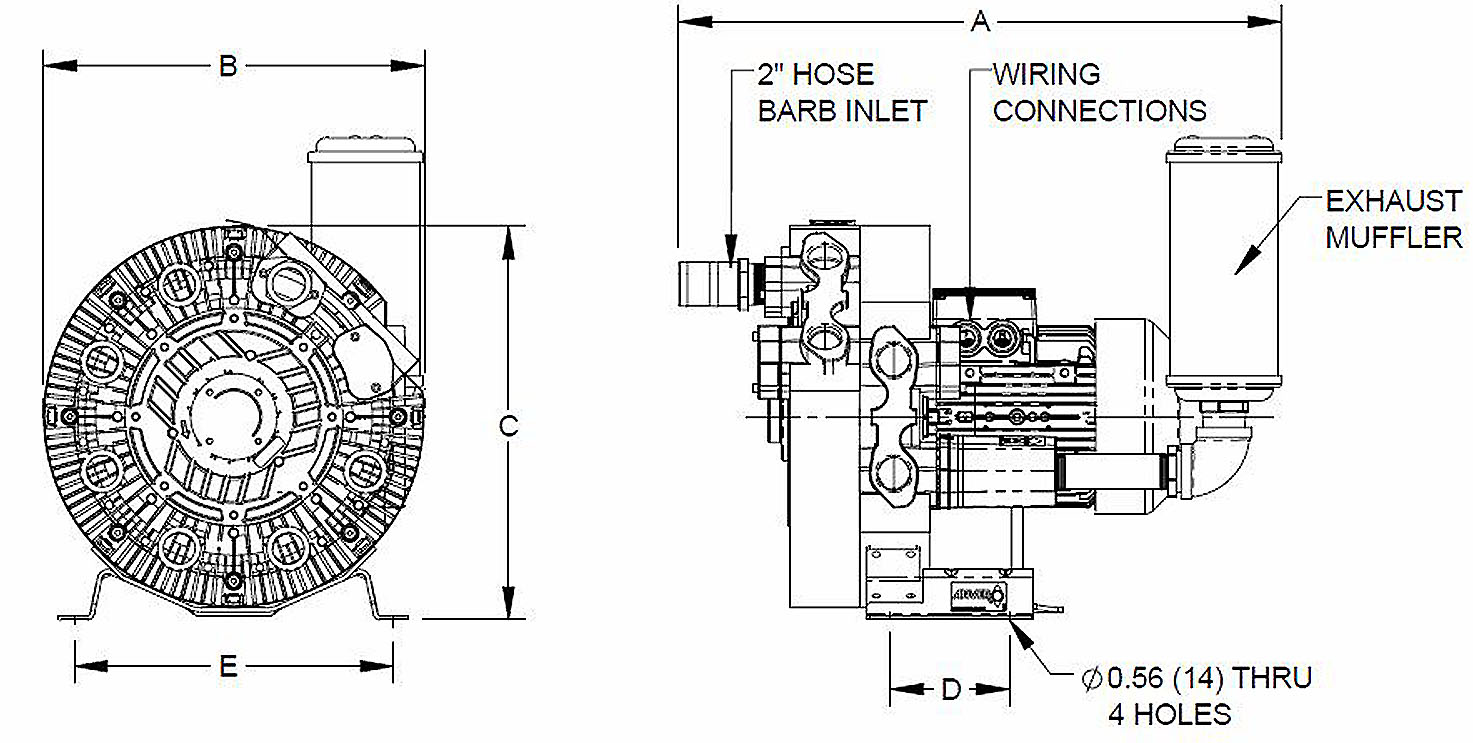 Notes: *Refer to the pump specification label for actual ratings. Data listed in the table below is subject to change. Before using the pump, confirm that your operating requirements are compatible with the data on the pump specification label.
Request For Quote
Model No.
VB4HF-S
VB7HV-S
VB8HF-S
VB9HV-S
VB11HV-S
A [in. (mm)]
28.6 (727)
25 (635)
30 (762)
26 (660)
n/a
B [in. (mm)]
15.3 (387)
15.3 (387)
17.5 (445)
17.5 (445)
n/a
C [in. (mm)]
15.4 (391)
15.8 (400)
18.1 (460)
18.1 (460)
n/a
D [in. (mm)]
5.5 (140)
5.8 (146)
6 (152)
6 (152)
n/a
E [in. (mm)]
11.4 (290)
12.9 (328)
14.7 (372)
14.7 (372)
n/a
Pump Weight [lbs (kg)]
75 (34)
88 (43)
143 (65)
129 (51)
190 (86)
Power [HP (Kw)]
4.6 (3)
3.4 (3)
8.4 (6)
6.2 (5)
8.9 (6.6)
Flow [SCFM (m3/hr)]
220 (370)
88 (147)
350 (594)
120 (203)
180 (306)
Maximum Vacuum [in. Hg (mbar)]
12 (406)
18 (609)
12 (406)
18 (609)
18 (610)
Maximum Temp [°F (°C)]
122 (50)
180 (82)
142 (61)
180 (82)
180 (82)
Sound [dB]
76
70
75
72
76
Amps @ 230/460, 220/440 VAC* (60Hz)
12.6/7.3
10.3/6.0
23.0/13.3
16.3/9.5
20.8/12.0
Amps @ 208/380 VAC* (50Hz)
12.5/7.2
9.7/5.6
23.0/13.3
15.8/9.1
n/a
Amps @ 575 VAC* (60Hz)
5.8
4.6
8
7.6
n/a
Pump Part Number
VB4HF
VB7HV
VB8HF
VB9HV
VB11HV
Muffler Part Number
MU-VB2
MU-VB112
MU-VB2
MU-VB112
T.B.D.
Optional Sound Deadening Enclosure
SDE-4
SDE-7
SDE-8
SDE-9
T.B.D.
Recommended Vacuum Relief Valve Kit
VRV-112-KIT-4
VRV-112-KIT-7/9 or
VRV-112-KIT-7-SDE
VRV-2-KIT-8/11 or
VRV-2-KIT-8-SDE
VRV-112-KIT-7/9 or
VRV-112-KIT-9-SDE
T.B.D.

Direct-Drive Vacuum Pumps and Vacuum Stations
Regenerative Vacuum Stations
Vacuum Pumps with Motors for Harsh Environments

Note: Vacuum Stations include a large muffler and connection fittings
Click on Classification for Definition
Station Part
Number

HP

VB4HF-S
4.8
VB4HF-S-X11D
VB4HF-S-X11CD
VB4HF-S-X21FG
VB7HV-S
5.0
VB7HV-S-X11D
VB7HV-S-X11CD
VB7HV-S-X21FG
VB8HF-S
8.5
VB8HF-S-X11D
VB8HF-S-X11CD
VB8HF-S-X21FG
VB9HV-S
7.5
VB9HV-S-X11D
VB9HV-S-X11CD
VB9HV-S-X21FG
VB11HV-S
8.9
VB11HV-S-X11D
VB11HV-S-X11CD
VB11HV-S-X21FG
Regenerative Vacuum Pumps Only
Pump Part
Number

HP

VB4HF
4.8
VB4HF-X11D
VB4HF-X11CD
VB4HF-X21FG
VB7HV
5.0
VB7HV-X11D
VB7HV-X11CD
VB7HV-X21FG
VB8HF
8.5
VB8HF-X11D
VB8HF-X11CD
VB8HF-X21FG
VB9HV
7.5
VB9HV-X11D
VB9HV-X11CD
VB9HV-X21FG
VB11HV
8.9
VB11HV-X11D
VB11HV-X11CD
VB11HV-X21FG
13600081 A
Sound Enclosures
Sound Enclosures for Vacuum Pumps and Vacuum Stations


ANVER Vacuum Tube Lifting Systems use vacuum pumps and vacuum stations that already meet OSHA guidelines for noise levels. For added comfort or for use where low noise is desired as a premium, sound deadening enclosures are available in most common sizes. As a general rule, sound enclosures reduce sound by 5-7 dB for vacuum pumps operating in the 68-76 dB range. Although this may seem vague, it is true since sound readings can vary by this amount simply by changing the location where you are standing when you are taking the sound readings. ANVER sound deadening enclosures are built from durable, melt-resistant, industrial-quality plastic. They have a steel plate base and are fully lined with sound deadening foam. It is best to obtain these enclosures when you purchase the vacuum station as they require special plumbing: the intake and exhaust pipes need to be lengthened to port correctly.

The following enclosure sizes are available from stock. When sold separately, extra pipe fittings, though a small amount, must be added. Check with the factory for details.
Product Photo

Model
No.

Fits
Vacuum
Station
Complete
Station
Part Number

A
in.
(mm)

B
in.
(mm)

C
in.
(mm)

Distance Between
Mounting Holes
D
in.
(mm)
E
in.
(mm)
SDE-3

33.00
(838)

24.00
(610)

21.50
(545)

N/A
N/A
SDE-4

33.00
(838)

24.00
(610)

21.50
(545)

35.00
(889)
11.40
(290)
SDE-7

33.00
(838)

24.00
(610)

21.50
(545)

35.00
(889)
12.92
(328)
SDE-8

29.25
(743)

30.00
(762)

38.75
(984)

31.25
(794)
19.00
(483)
SDE-9

33.00
(838)

24.00
(610)

21.50
(545)

35.00
(889)
14.64
(372)
13600082 A
Vacuum System Accessories
Heavy-Duty Quality Exhaust Mufflers
These attractive, quality exhaust mufflers feature a rugged, heavy-duty construction. The top and bottom covers are cast aluminum with a metal perforated housing for heat resistance. The tie rods and nuts are zinc-plated steel. At an in-line pressure of 90 psi, these mufflers reduce the noise level by 17-22 decibels with little impairment of operating efficiency. They are supplied with NPT male connections.

Specifications

Maximum Pressure: 125 psi

Maximum Temperature: 300°F (149°C)
Product Photo




(Click to




Enlarge)

Part No.

Thread NPT

Description

1-1/2″

Exhaust Muffler for Regenerative Vacuum Pumps

2″

Exhaust Muffler for Regenerative Vacuum Pumps